Nevada's nonrestricted gaming licensees reported a total "gaming win" of $979,859,876 for the month of September 2017, according to the state's Gaming Control Board. This amounts to a 3.25% increase compared to September 2016, when licensees reported a gaming win of $948,991,121. Gaming win has increased 5.01% for the fiscal year (July 1, 2017 through September 30, 2017).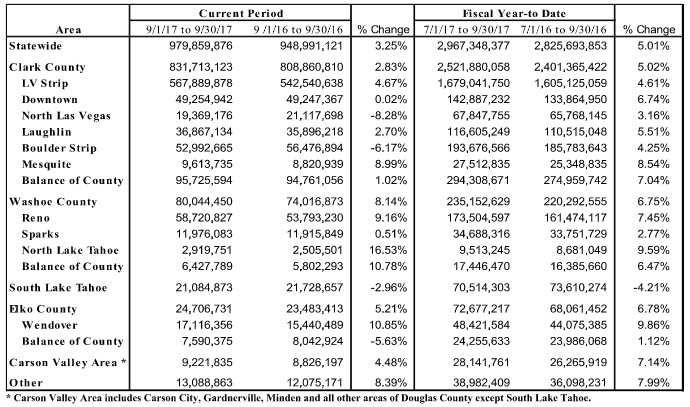 In Southern Nevada, Mesquite led the way with 8.99% gains in September over the same month in 2016. The Strip posted a solid 4.67% increase driven by table revenues, while Downtown remained flat and North Las Vegas and the Boulder Strip saw substantial dips for the month. Downtown is still a leader in the fiscal year to date, and leading the way in the prior fiscal year.
North Lake Tahoe saw a 16.53% increase in September gaming win, leading the pack in Northern Nevada while South Lake Tahoe saw a slight decline. They are also the respective top and bottom performers for the fiscal year to date.
The State collected $58,846,547 in percentage fees during the month of October 2017*, based upon the taxable revenues generated in September 2017. This represents a 7.19% (or $4,558,197) decrease compared to the prior year's October, when percentage fee collections were $63,404,744.
More stats from our friends at Deutsche Bank:
September LV Strip Revs: +4.7% y/y (DB -2.3%)
3Q17 LV Strip Revs: +4.6% y/y
September LV Locals Revs: -2.5% y/y
3Q17 LV Locals Revs: +5.5% y/y
Strip Slots:
Slot Revs +4.1%
Slot Handle +3.6%
Slot Hold +4 bps
Strip Baccarat:
Baccarat Revs +3.3%
Baccarat Drop +47.6%
Baccarat Hold -497 bps (11.6% versus hold of 16.6% in September, 2016 and an LTM average of ~14.0%)
Strip Non-Baccarat Tables:
Non-Baccarat Table Revs +6.1%
Non-Baccarat Table Drop +1.0%
Non-Baccarat Table Hold +77 bps
Strip Total Tables:
Total Table Revs +5.2%
Total Table Drop +15.4%
Total Table Hold -136 bps